Garfield Green Development Wins International Climate Competition
Of 31 sites and 82 project teams worldwide, Chicago's Garfield Green is among the first 15 winners of C40's 2019 Reinventing Cities Competition. The C40 Cities Climate Leadership Group is made up of 94 cities around the world that represent one twelfth of the world's population and one quarter of the global economy. Created and led by cities, C40 focuses on tackling climate change and driving urban action that reduces greenhouse gas emissions and climate risks, while increasing the health, well-being and economic opportunities of their citizens. 
The Reinventing Cities competition recognizes urban projects that foster carbon-neutral and resilient urban regeneration across the globe and implement the most innovative ideas for transforming underutilized sites into beacons of sustainability and resiliency. As explained by C40, these innovative and replicable climate solutions will serve as examples for other cities to reimagine urban development and to drastically reduce the carbon footprint of new and existing buildings, which today account for more than 50 percent of emissions in C40 cities. The 15 winning teams of architects, urban planners, designers, developers, entrepreneurs and innovators were selected by juries in each city, from amongst 82 finalist teams.
Two projects from Chicago made the final round of competition—Pershing Road Buildings and Garfield Green. Garfield Green is a winner.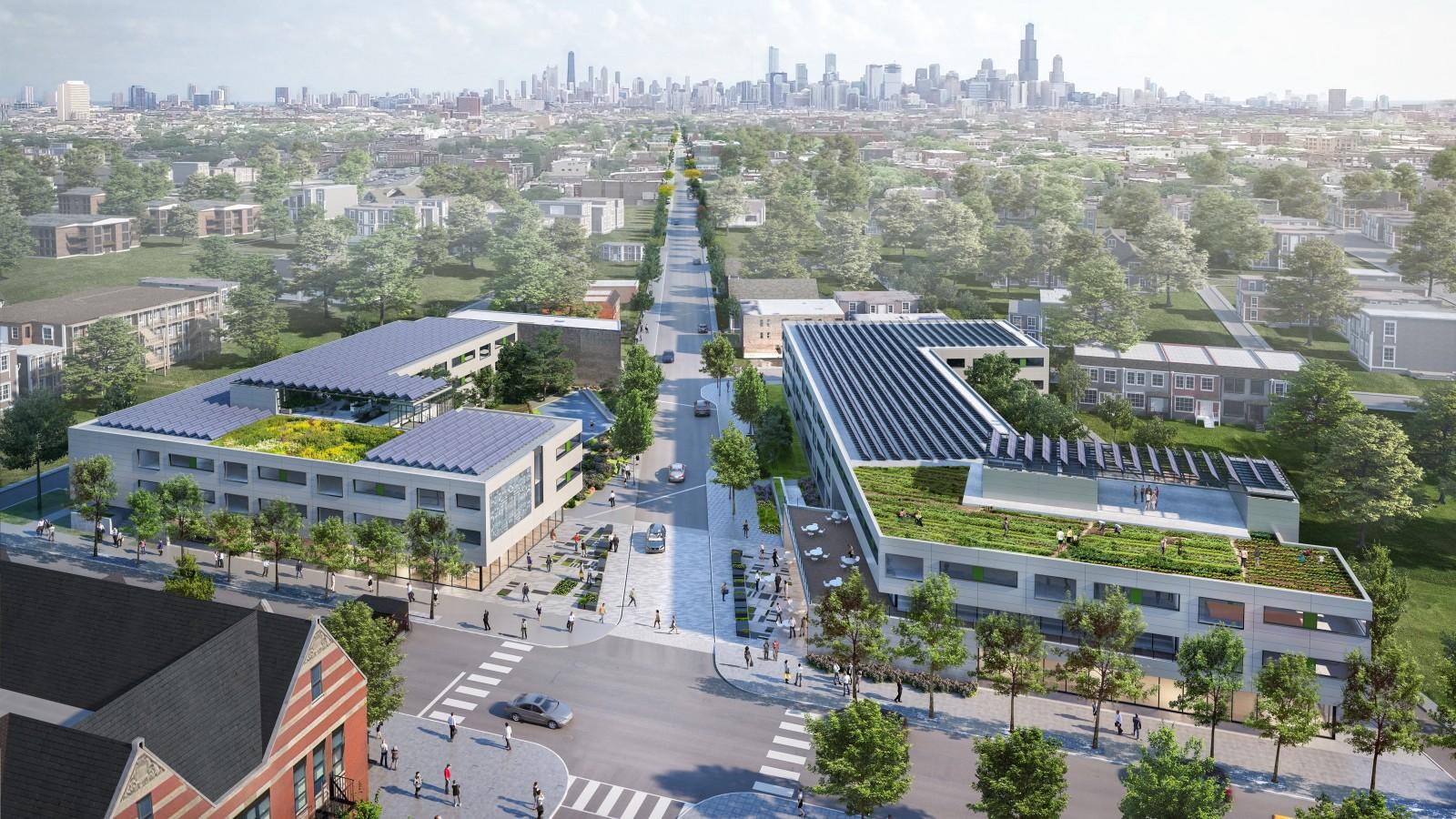 This site involves two sets of contiguous vacant lots located at the corner of 5th Avenue and Kedzie Avenue in the East Garfield Park area. Garfield Green is a new residential community, which lives up to its name not only by generating 100% of its power on-site and processing 100% of its storm water on-site, but also thanks to its resilient design prepared for the future climate change challenges that Chicago will face.
Garfield Green led other Reinventing Cities competitors in three specific areas:
Low-carbon production
The Garfield Green project located in Chicago presents a particularly interesting and innovative solution for low carbon energy generation. Instead of using Renewable Electricity Certificates (RECs), which allow you to remain connected to the grid and contribute to renewable generation somewhere unknown, "Garfield Green" has opted for a Solar Power Purchase Agreement. This approach guarantees that the electricity used is indeed renewable electricity that has just been produced on a nearby known site. 
Water management 
The Garfield Green project has an innovative way to manage excess rainwater where an "Innovative soils" technology is applied. Cells are located underneath the sidewalks and can absorb storm water and rainwater runoff.
Community engagement
Seventy four percent of winning teams commit to organize workshops with the local community. In Chicago, the Garfield Green project consists of a new residential community of 77 new mixed-income residential units and 9,000 square feet of community/retail space. The team focused on inclusion and equity and sets ambitious goals in terms of social impact of the project. Garfield Green offers cooperative housing for homeownership and affordable units, and also creates new amenities and services for the neighborhood. A large open space will promote the neighborhood's assets and story (memorial Plaza and park), space for healthcare, job-training and co-working spaces. In addition, the construction process suggested by the team will employ up to 150 local residents.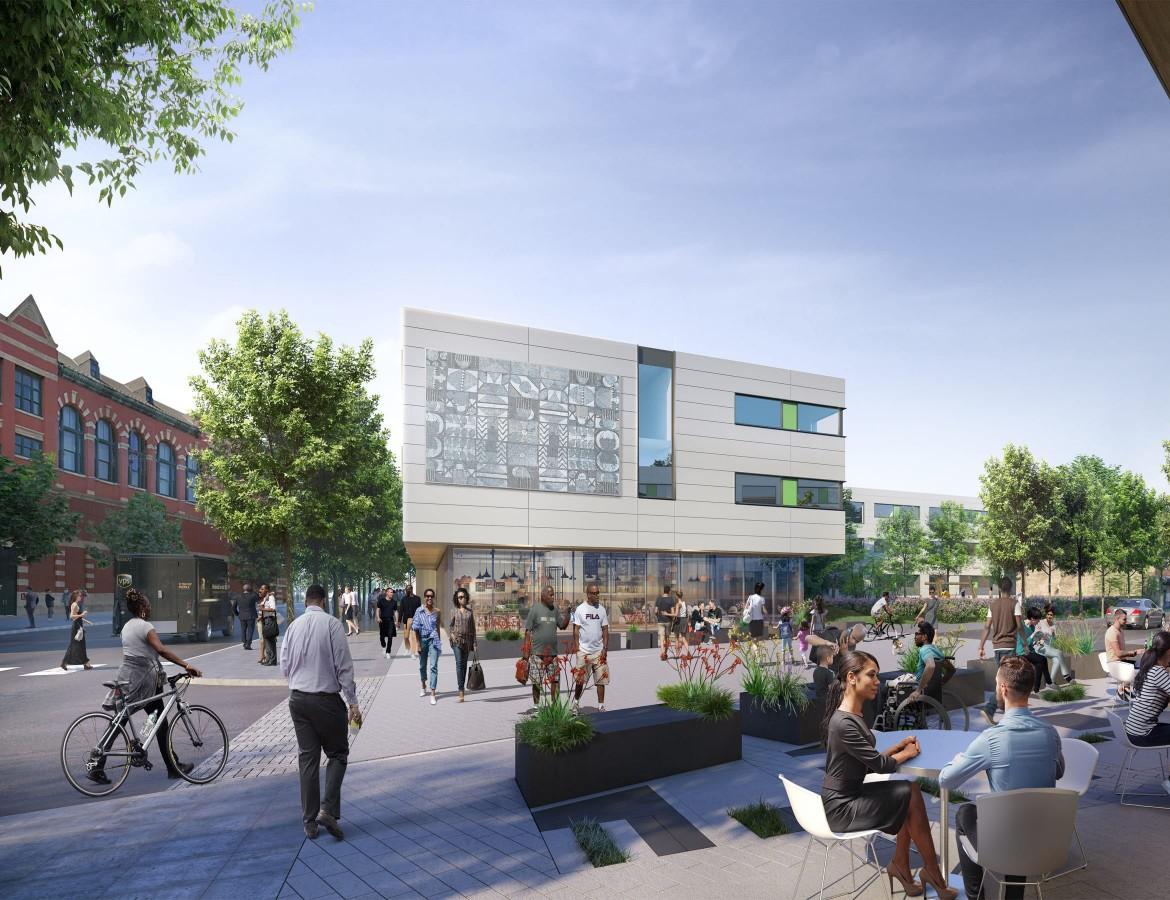 Key Components & Solutions
Garfield Green is a net-zero carbon and net-zero energy housing project.

Designed to Passive House standards and built using the innovative modular building developed by local factory, the project is highly replicable.
Strong biodiversity benefits via an oak arboretum and a rooftop garden dedicated to urban agriculture. The project will provide green spaces and will offer experimental support to the neighboring high-school and associations.
The project will host start-ups that promote environmental sustainability.
Several resiliency and adaptation solutions, including the building's green roof and passive bioclimatic design to palliate the heat-island effect; and 100% of its storm water process on-site.
Architect(s): Perkins+Will, Inc. / Nia Architects, Inc., Environmental Expert(S): Terra Engineering, Ltd. 
Team Representative: Poah Preservation of Affordable Housing, Inc.
League to which this content belongs:
Chicago