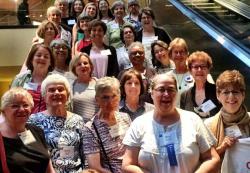 The League is a grassroots organization that provides you with opportunities to learn about government and take action on public policy. In turn, we hope you use this knowledge and experience to educate others. We depend on you to help us support a strong, safe, and vibrant community. Whether you contribute time, money, or other resources, be confident that your investment in democracy goes further with the League. Click on the red links below to learn how.
As a League member, you'll learn how to have a meaningful voice in respectful public discussions. You'll also become experienced in advocating on specific policies and discerning what the
issues
 beneath the rhetoric are.
The LWV's study and consensus process
ensures that we get all the facts before taking a stand. In addition, we host public forums, which are widely recognized for being fair, transparent, and civil. This approach has earned the League a global reputation for integrity and thoroughness.
Your participation in the League will open new pathways to your civic engagement. Time commitment and level of involvement are flexible. Whether you prefer to learn or lead, the League will work with you as you explore your civic ideals and how to act on them. As a member, you can participate in webinars, conference calls, workshops, mentorship opportunities, and other events throughout the year at the local, regional, state, and national levels.
Click
here
to see which events on our calendar appeal to you. Visit our
Membership
and
Volunteer
pages to become involved!