ELECTION DATES
March 10, 2020 will be the Presidential Primary election plus local proposals.  Click HERE for Washtenaw County website voting information.
The 2020 Presidential Primary is designated a closed primary, just as it was in 2012 and 2016. Michigan Election Law requires voters wishing to participate in the March 10, 2020 Election to choose a Democratic ballot, a Republican ballot, or ballot without Presidential Primary (local issues only such as proposals) when voting absentee or at the polls on Election Day. While a voter must select a specific ballot, there is no political party registration in Michigan's voter registration system. 
Other election dates in 2020 are:
May 5, 2020  

August 4, 2020 Michigan state and local offices primary  

November 3, 2020 General Election
REGISTERING TO VOTE
The last day to register to vote in any manner other than in-person with the local clerk for the March 10, 2020 Election is Monday, February 24, 2020. After this date, anyone who qualifies as an elector may register to vote in person with proof of residency (MCL 168.492) at your county/city/village/township clerk's office.
Michigan now has on-line voter registration or you can fill out a form and mail it to your local clerk.
REQUESTING AN ABSENTEE BALLOT
To vote by Absent Voter Ballot, you must first submit a request through an Absent Voter Ballot Application, or through a written request. Absent Voter Ballot Applications may be submitted at your Clerk's Office through Monday, March 9, 2020 at 4:00 PM, though the last day to mail out ballots will be Friday, March 6, 2020. For your convenience, Clerk's Offices will be open on Saturday, March 7, 2020 from 8:00 AM to 4:00 PM to issue absent voter ballots. 
CANDIDATE FORUMS
Prior to the August and November elections, LWV-AAA candidate forums for Ann Arbor will be available on demand to view at the CTN Channel 19 website.
Go to LWV-AAA Calendar for schedule for forums.  
Questions you may be asking:
Am I registered to vote?
Check on the Michigan Secretary of State website
How do I register?
Michigan now has on-line voter registration or you can fill out the State of Michigan Voter Registration Application. Return the form by mail or in person to your local Clerk. OR you can visit any Secretary of State Office, County Clerk, City/ Village/ or Township clerk to register.  
How do I get an absentee ballot?

Due to the passage of the statewide ballot proposal 18-3, all eligible and registered voters in Michigan may now request an absent voter ballot without providing a reason.   You must fill out the absentee ballot application and return it to your City or Township Clerk by 5pm Friday before the election.    Contact your City/Village or Township Clerk if you have questions.
What's on my Ballot?

There are two sources of ballot information.
You must enter your information, then follow directions to see your registration status, your ballot, and candidate information.
What's Happening with the Citizens Redistricting Commission?

Please see the Secretary of State page for official information
Thinking of being a candidate?
Running for Public Office 101   Thinking about running for elected office? LWV-AAA and Sigma Delta Theta co-sponsored a seminar on the topic. Click on this LINK to go to the AADL video-on-demand and view this event.
The Michigan Secretary of State and Washtenaw County Clerk websites each have lots of information about this.
Or listen to a WEMU interview with a LWVAAA member who has run for office.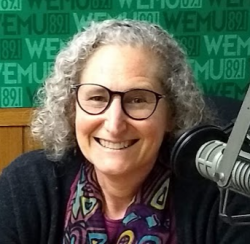 On February 25, 2019, LWVAAA member and Ann Arbor Township Clerk Rena Basch shared some of her experiences running for local office and explained how to prepare and what to do to be a candidate. Listen HERE