A message from our ERA League Action Team: 

In an effort to bring awareness to the Equal Rights Amendment, we have launched a social media campaign. Anchored by the hashtag #DadsForEquality, we are asking every advocate for equal rights to post a picture on Facebook, Twitter, and/or Instagram with their father or father figure with a personalized message about why they believe women deserve the same rights as men. 

If writing personal messages isn't your forte, we also have prewritten messages that you may use with a personalized picture (see below). We're asking that each post include the #DadsForEquality and #RatifyERA hashtags so that we can repost and track participation. We're also encouraging you to ask additional friends and family members to share messages as well as Father's Day approaches. Awareness of this amendment and initiative is paramount – and what better tool to use to reach the masses than social media? Learn more about the ERA and the latest developments surrounding it here. 

Women's rights are human rights, and with your help, we look forward to spreading the importance of this to our fellow North Carolinians and to our elected representatives. We also encourage you to tag our Senators, @SenatorBurr and @SenThomTillis. 
Thanks in advance for your participation!
A reminder: The ERA has finally been ratified by the requisite 38 states. We are closer to making women's equality a Constitutional right than we've ever been before. Yet opponents argue that a deadline imposed by Congress was not met, and therefore the ERA is not valid. On the other hand, legal experts say that a deadline created by Congress can be removed by Congress, a step the U.S. House has already taken. 

Now, it's up to the Senate. So far, 48 Senators have lent their support to SJR6 to delete the deadline.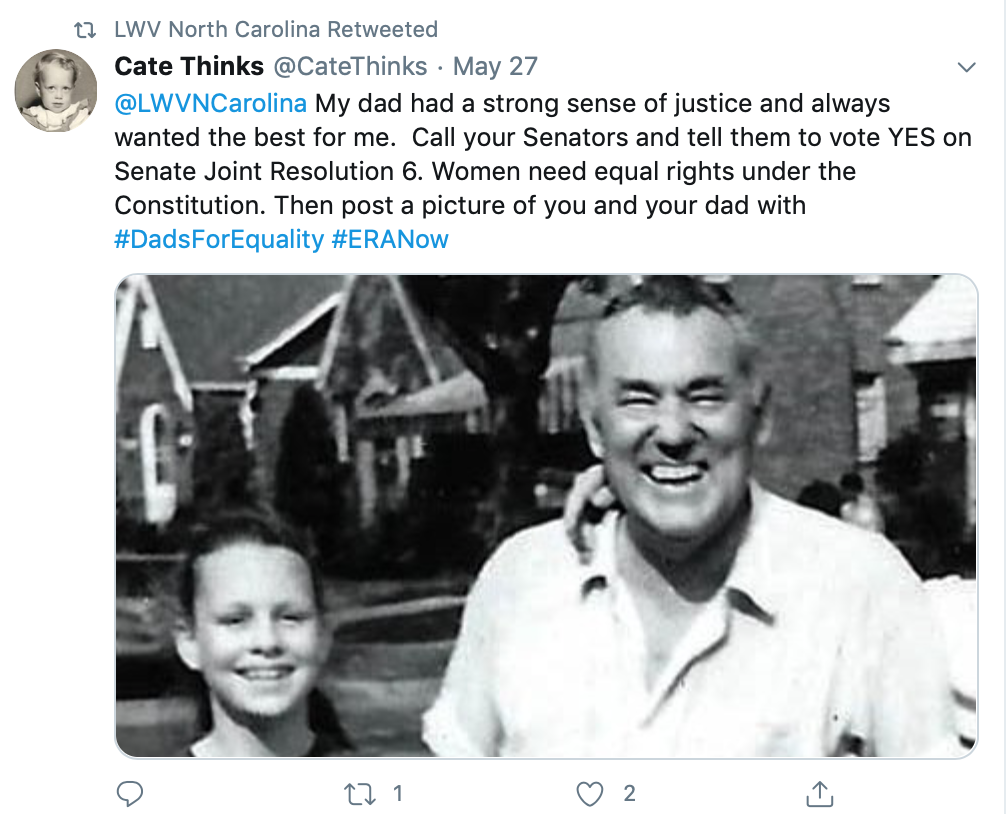 TEXT EXAMPLES

"94% of Americans support the ERA. Including my Dad, who always taught my sisters and me that our potential is limitless. Don't you agree, @SenThomTillis and @SenatorBurr? #DadsforEquality #RatifyERA" 

"Isn't it far past time we pass the ERA, so that women's rights can become law? My Dad and I sure think so. #DadsforEquality #RatifyERA"