**Ballots are being mailed October 8 - 9th.    If you do not receive yours by October 19th, contact the Spokane County Election Site.
View your ballot using our unbiased voter guide, Vote411 Just enter your address to find your polling place, create your personalized voters' guide and find everything you need to vote! With your personalized guide, you will:
see everything that will be on your ballot,
compare candidates' positions side-by-side,
print out a personalized ballot with your choices to take with you on Election Day.
View the video How to Mark Your Ballot. Click here.
Find information about the next election at .....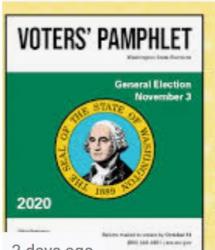 Did you know that you can Track Your Ballot on the County Elections Page as it is processed?
HOW TO CHOOSE A CANDIDATE
How do voters go about comparing and then judging the candidates? All too often, slogans, name recognition and personality are all that come through in campaign materials. Because television continues to dominate political campaigns, with the Internet as an ever growing presence, it is difficult to move beyond a candidate's image to the substance of a campaign. However, it is possible to move beyond style to substance.
These seven steps are designed to help you judge a candidate.
FREQUENTLY ASKED QUESTIONS

 Answers to questions about registering, ballots, where to find information, why elections and your vote are important.